HogDoc Motorcycles
Welcome to Hogdoc Motorcycles in the Northwest of England.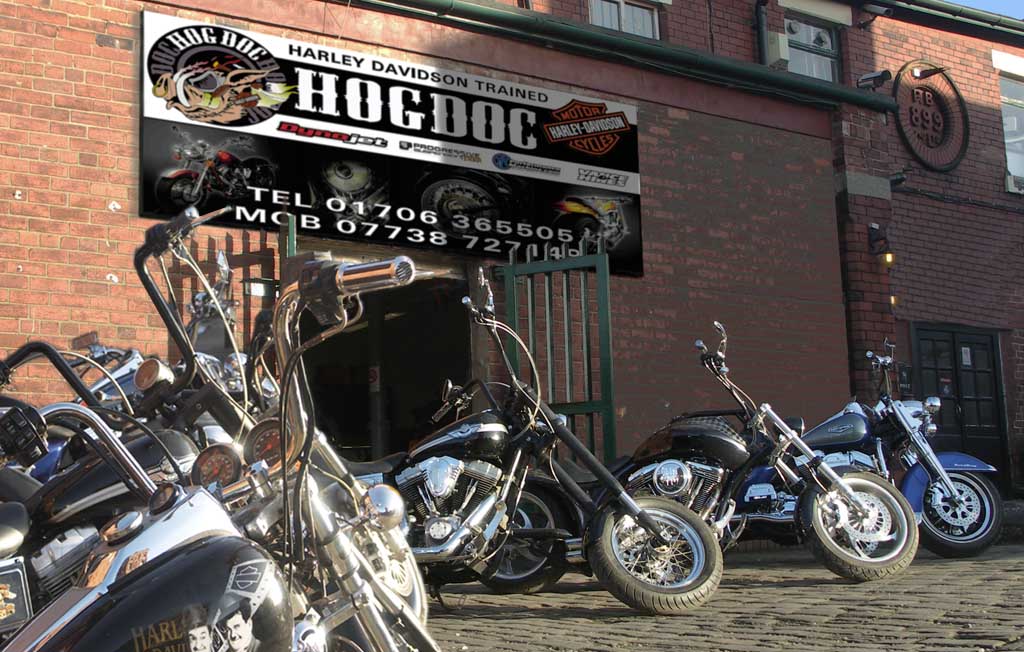 We provide Custom Motorcycle building, can Customise your motorcycle or supply and fit accessories.
We also service and MOT all makes of motorcycle.
We specialise in all work on Harley-Davidson motorcycles and have all the equipment necessary to ensure that you get the most from your Hog!
So if you need any of the items below either give us a call on the number at the top of the page or use the contact page to drop us a line. Alternatively check out the visit-us page to get more information and then call and see us.
Here are some of the things we can do for you:
Complete custom motorcycle projects - the only limit is your imagination (including fabrication, painting and plating)
Accessorise your bike - we can provide and fit the parts (we'll also help you choose them)!
Service your bike - any make!
MOT preparation and then take it for the MOT itself (we prepare it, we won't take it in unless it will pass)
Tuning your motorcycle - whether it's fuel injection mapping or traditional carburettor - we can get the best performance from your motorcycle with our Dynojet rolling road and analysis equipment
You can be sure we'll treat your bike like it's our own and treat you with respect as our customer.
PLUS we're really friendly!